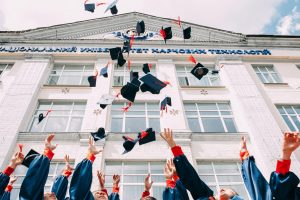 COVID-19 has turned everything upside down, including college graduation. These uncertain times make it more important than ever to make sure you are financially prepared for whatever lies ahead. Graduating college and starting your career comes with additional expenses and responsibilities, so making sure you are financially set for the future is crucial. Plus, ensuring financial preparedness can help ease some of the anxiety that comes with graduating. Here are just a few ways you can ensure greater financial stability post-graduation.
Set up a plan to pay off your student loans
According to Forbes, there are 45 million people who have taken out student loans. If you are one of those students, it's crucial to set yourself up for success to ensure you are able to pay off your loans as soon as you can! This will allow you to save more of your money and live debt-free. Some best practices that will put you on the path to success include:
Creating a strict budget.
Paying over the minimum payment to avoid accumulating interest.
Starting with the smallest loan first and working your way up (often called the debt snowball method).
Seeing that balance drop to zero will not only be a huge weight lifted off your shoulders, but it will also leave you better prepared to tackle future big purchases such as buying a house or a car.
Open up a checking account with direct deposit
Once you've landed your first job out of college, it's time to open up a checking account and set up direct deposit. This will allow you to get your paychecks paperless and automatically deposited into your account, making payday much easier on you and your employer! Many checking accounts also provide you with a debit card, making it easy to access your money and make everyday purchases.
There are many options available when choosing the right financial institution to set up an account with. If you don't already have yourself set up with a checking account, consider signing up with a financial service  that will directly deposit your paychecks in advance! This can ease some of the stress between pay periods and get you your money days earlier than most would.
Begin contributing to a retirement plan
Besides saving for your emergency fund, it's important to make contributions to a retirement fund such as an IRA as early as you can. It can be easy to focus on the short term goals like paying off rent and keeping up with your student loans, but it's never too early to begin planning for retirement.
Even if you are only able to contribute a small portion of your income, every little bit counts! Check with your employer to see their options. Many employers will have a 401(k) plan and may even match some of your contributions! If you're unfamiliar with these types of plans or where to start, check out these key points.
Build your credit
Lastly, you'll want to make sure you're focusing on building up your credit. Applying for a credit card and making small purchases can help you to slowly increase your credit score.
Building or improving your credit score can help you get approved for future purchases such as a new car or mortgage on a house. Finding a credit card that's right for you can be a challenge for some, so make sure to do your research and ask about these questions to yourself:
Is there an Annual Fee?
What is the APR?
Do they offer benefits such as cash back or travel miles?
What kind of fees do they have?
Do they have a credit score requirement?
If you are not sure where to begin your search, be sure to check out these student credit cards to start your journey student credit cards to start your journey.
Being proactive about maintaining your finances is a crucial habit to get into, so starting off your college graduation on the right foot will be key. Given the circumstances we are in right now, it's more important than ever to be conscious of your finances and start off on the right path. Now it's time to finish off the semester strong!